Vanessa Tagliabue Yorke voice, arrangements, original compositions
Francesco Bearzatti sax, clarinet
Emanuele Parrini violin
Maria Vicentini viola
Salvatore Maiore cello
Enrico Terragnoli guitar
Giovanni Maier cbass
Michele Rabbia percussion, electronics
Yorkestra is a small jazz orchestra in which we find some of the most important contemporary European musicians, writing and improvisation alternate in perfect balance through the unusual and exotic atmospheres of the pieces taken from Diverso Lontano Incomprensibile : Vanessa Tagliabue Yorke's album published in 2020 by Artesuono / Stefano Amerio.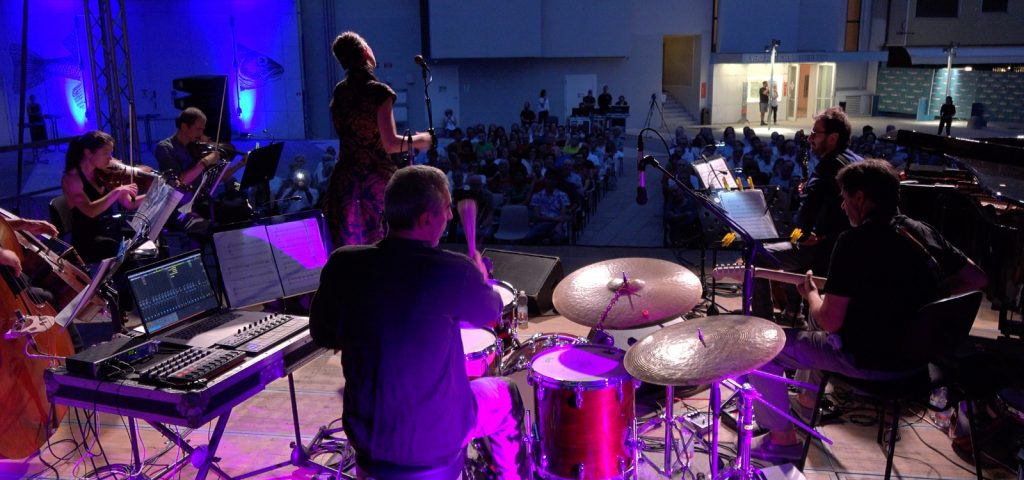 Starting from a desire to bring back to the stage the jazz of the origins, where the word is not an obstacle to music, the Yorkestra moves in terrains that recall worlds with different and suggestive musical and linguistic forms. The voice of the Yorke in five different languages harmonizes everything creating a fascinating sound in a natural way and with such lightness that it surprises even more than her extraordinary vocal qualities.
"Yorke is, in plain language, a one-off. She began recording in 2012 and Diverso Lontano Incomprehensibile is her fifth album. She wrote most of the material and arranged all of it. She is accompanied by a mixed lineup of jazz and classical musicians. Her arrangements are as striking as her voice, leaving plenty of space for each instrument to take turns in the spotlight. Francesco Bearzatti's lyrical clarinet plays a prominent role, as does Paulo Birro's equally pleasing piano. All the musicians shine but the quietly twangtastic electric guitarist Enrico Terragnoli and pointillist percussionist Michele Rabbia's are worthy of special mention."