Sousaphonix are one of the most original realities of Italian jazz. It is an ensemble of twelve musicians born in 2009 under the CAM Jazz label from the brilliant mind of Mauro Ottolini, jazz trombonist, wind instrument specialist, composer and arranger (Best Italian TOP of Jazz Musician 2012).
The name Sousaphonix derives from the main instrument of bass register in marching bands of the late nineteenth century, a special bass-tuba that is built to surround the body of the musician who plays it, allowing him to walk while playing, invented by John Philip Sousa: The Sousaphone. The name "Sousaphonix" refers to the idea of being able to play dynamic music by moving in space and time, literally wearing one's musicality with all possible freedom.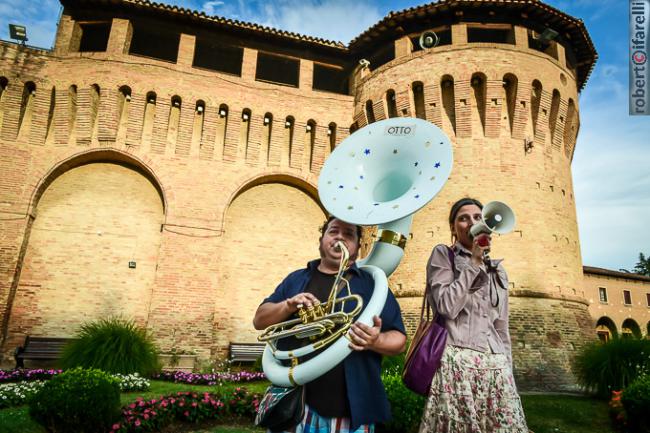 Over time the most illustrious musicians of the Italian avant-garde scene have been part of this ensemble, whose beating heart is formed by the solid musical personalities of Mauro Ottolini (trombone, sousaphone and arrangements), Enrico Terragnoli (guitars, banjo, podophone), Danilo Gallo (double bass), Zeno De Rossi (drums), Vincenzo Vasi (theremin, electronics, vocals), Dan Kinzelman (tenor saxophone, transverse flute) and Vanessa Tagliabue Yorke "one of the pillars of Sousaphonix" according to italian jazz journalist Gianni Montano .
In this wonderful project vanessa grows up and highlights her skills as an author as well as an interpreter, collaborating in all the creative phases together with the leader Mauro Ottolini, writing texts in various languages for his original compositions she sings and composes in Finnish , French, English, Arabic and Italian.